Regular price
Sale price
$7.00 USD
Unit price
per
Sale
Sold out
Indulge in the pure sweetness of nature with our raw Wisconsin honey, straight from the hives of our farm. Our honey is unprocessed, unpasteurized, and unfiltered to preserve its natural flavor and health benefits. Sourced from the pristine fields and wildflowers of Wisconsin, our honey is free of additives and preservatives, making it a healthy and flavorful addition to your diet. 
At our farm, we prioritize the well-being of our bees and the environment, using sustainable and ethical practices to ensure the highest quality of honey. We believe that honey is not only a delicious treat but also a powerful symbol of the harmony between humans and nature.
Shop now for our pure raw Wisconsin honey, and taste the difference that comes from a small-batch, locally sourced, and artisanal product.
Raw honey has been used for its medicinal properties for centuries, and modern research confirms that it can provide a wide range of health benefits. Here are some of the main ways in which raw honey can support your well-being:
Boosts Immunity: Raw honey contains natural antimicrobial and antioxidant compounds, such as hydrogen peroxide and phenolic acids, that can help to fight off harmful bacteria, viruses, and free radicals. By consuming raw honey regularly, you can strengthen your immune system and reduce the risk of infections and diseases.

Soothes Cough and Sore Throat: Raw honey has a natural ability to coat the throat and ease irritation and inflammation. It can also stimulate the production of saliva and mucus, which can help to expel phlegm and reduce coughing. Raw honey has been found to be just as effective as some over-the-counter cough medicines in reducing cough frequency and severity.

Promotes Wound Healing: Raw honey has been used topically to treat wounds, burns, and ulcers due to its antibacterial and anti-inflammatory properties. It can also create a moist environment that supports tissue regeneration and prevents scarring. Raw honey can be applied directly to the affected area or mixed with other ingredients, such as aloe vera or coconut oil, for enhanced healing effects.

Supports Digestive Health: Raw honey contains prebiotic compounds that promote the growth of beneficial gut bacteria and improve digestion. It can also relieve digestive symptoms, such as bloating, constipation, and diarrhea, by reducing inflammation and improving nutrient absorption.

Reduces Allergy Symptoms: Raw honey may help to alleviate seasonal allergies by desensitizing the body to pollen and other allergens. By consuming local raw honey, which contains small amounts of pollen from the surrounding plants, you can build up immunity to the allergens and reduce the severity of symptoms such as runny nose, watery eyes, and sneezing.
Overall, raw honey is a natural and delicious food that can provide numerous health benefits for people of all ages. To experience the full benefits of raw honey, it's important to choose a high-quality product that is minimally processed and sourced from the very pastures our Wagyu cattle graze and raise th
View full details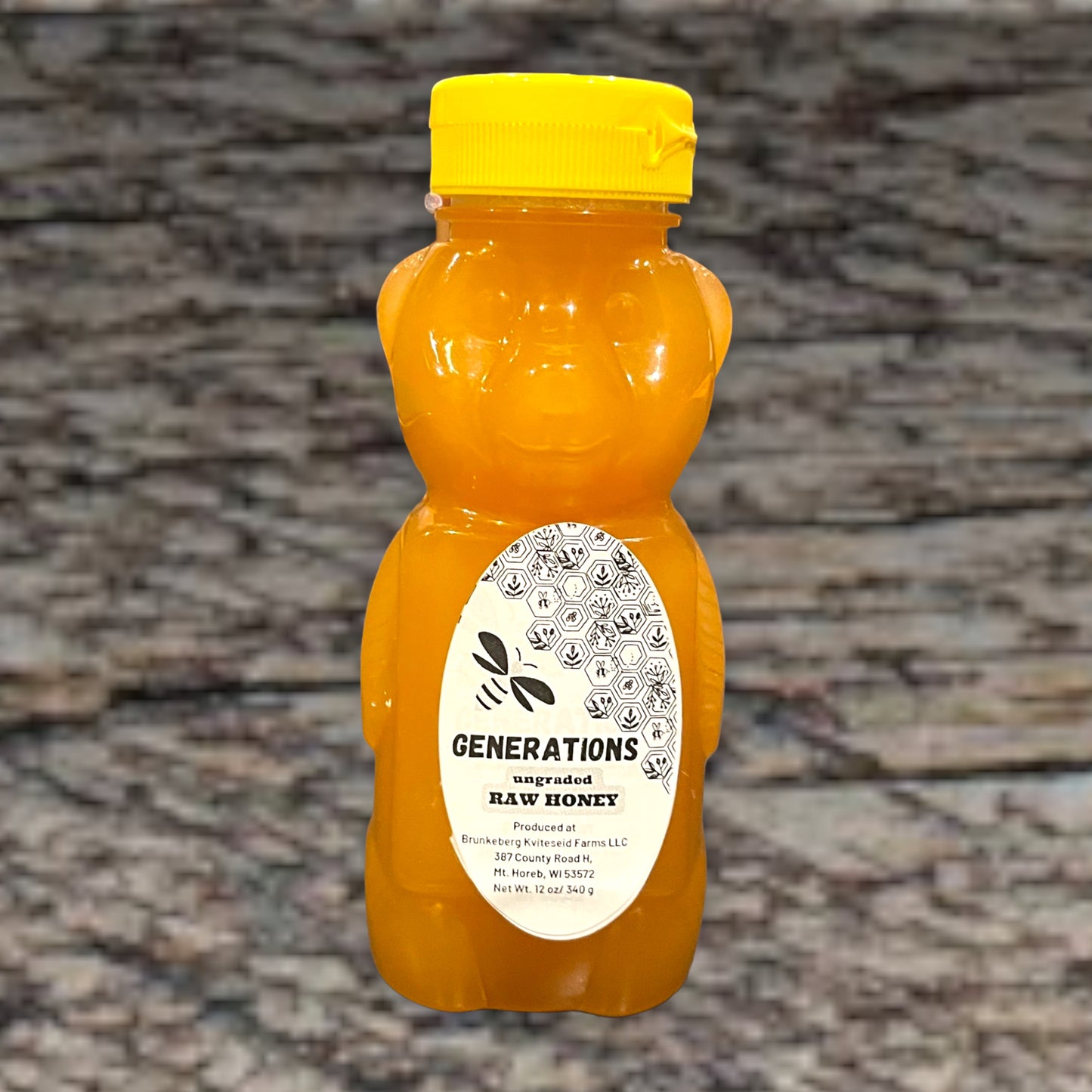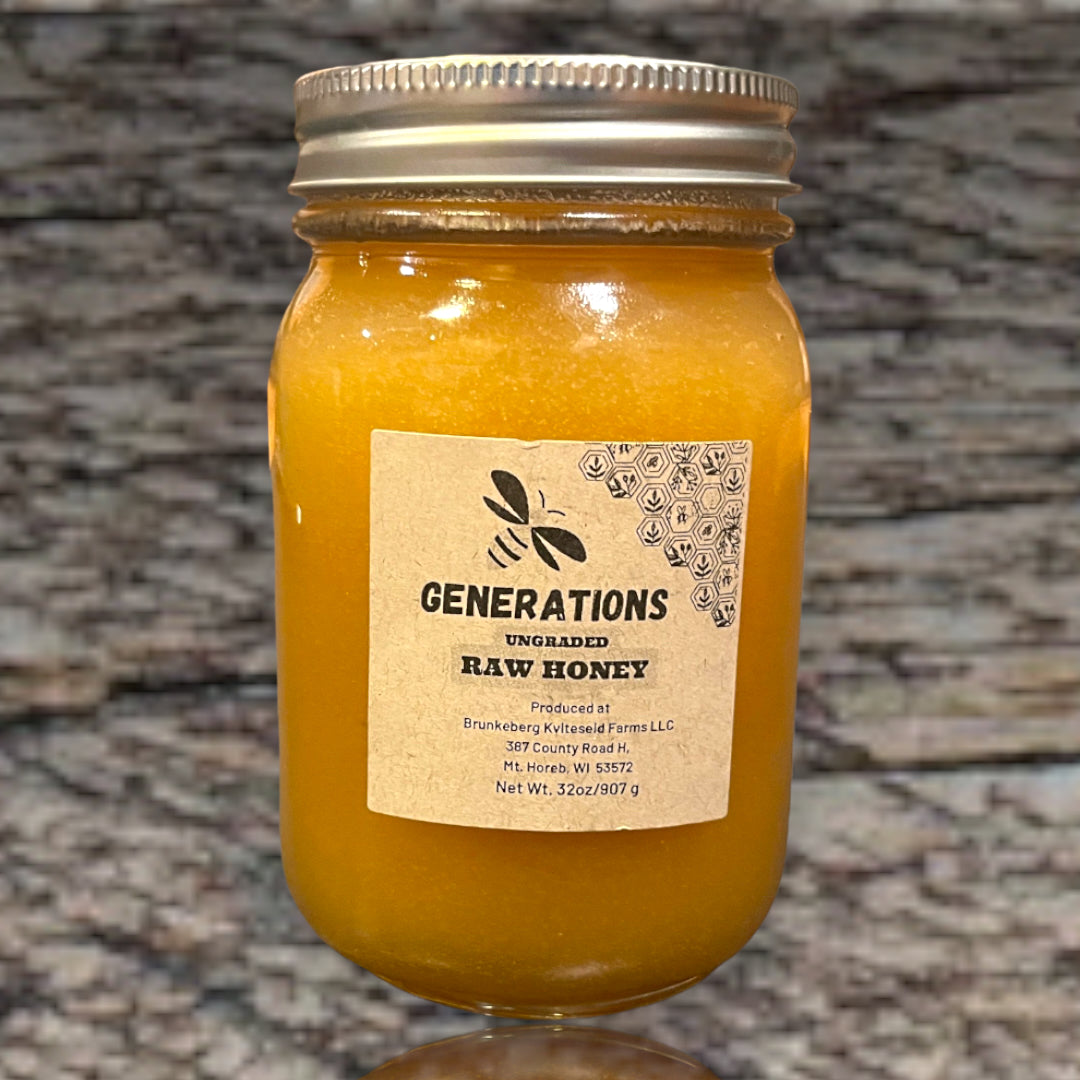 Absolutely delicious!
Our family couldn't be happier with the delicious Wagyu beef we have eaten from Generations Farms! While we haven't tried everything yet, so far the beef is some of of the best beef we have ever eaten. I have to highlight the hamburgers. Cooked evenly and perfectly, and most noticeably- no weird taste or aftertaste! Just the taste of the meat. We seasoned them and made some of our usual store bought burgers at the same time, same pan, same seasoning. The Wagyu price was actually slightly less than store bought, but the taste of the Wagyu was so much better. I like supporting local farms when I can for my family of 6, and I will keep getting my beef from Generations. The beef bacon is all mine and was delicious! The honey too is amazing and a staple in our household. 5/5 stars for sure. I recommend them without hesitation; we will be customers from now on!
Shipping

We strive to deliver within 10 days of receiving your order. If you need it soon, please include your requested delivery date in the note section on the checkout screen.

Generations Beef

Returns

We strive for 100% customer satisfaction on all orders. If for some reason you aren't 100% satisfied with all or a portion of your order, please contact Darren Kittleson 608.212.3126 or Darren@GenerationsBeef.com